Claim Your Free Book…
Six Figures A Year In Info Publishing


By Nick James, Serious About Six Figures™ Founder

The best place to get started with your own profitable information publishing business is to request your FREE COPY of "Six Figures A Year In Info Publishing."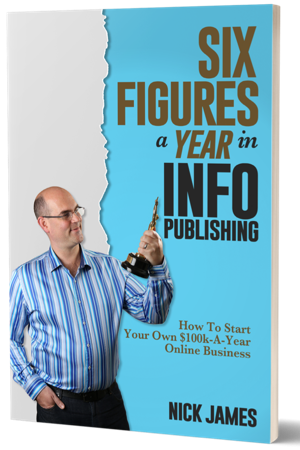 Get this book shipped to you by priority mail today – no matter where you live in the World.
Discover…
The Four Strategies you can use to create a $100K per year online business.
The Zero-Cost Marketing Method they never teach at 'business school' but could easily be how 80% of your customers find your products.
The Walt Disney Principle that built a multi-billion dollar corporation and the effect it could have on your own entrepreneurial success.
And more!
Click Here To Request your free copy of "Six Figures A Year In Info Publishing"
Still Want More Great Information? … Do This Next…
GET STARTED IMMEDIATELY – DOWNLOAD MODULE ONE
"How To Create A Signature Product Out
Of Thin Air In 72 Hours Or Less"
In it, you will discover…
A proven-to-work plan to get $97 orders that automatically works to pull in more orders for the next 365 days! (Hint: 72 hour setup!)
How I create "buyer lists" (instead of "prospect lists") and the exact steps to take to duplicate this in your own business.
Five ways to build-in even more profit, including my game-changer strategy for getting prospects to join the paid customer list.
Click Here to login and access module one (available now!)
Not a Serious About Six Figures™ member? Click Here to learn more about it