Claim Your Free Book…
Six Figures A Year In Info Publishing


By Nick James, Serious About Six Figures™ Founder

The best place to get started with your own profitable information publishing business is to request your FREE COPY of "Six Figures A Year In Info Publishing."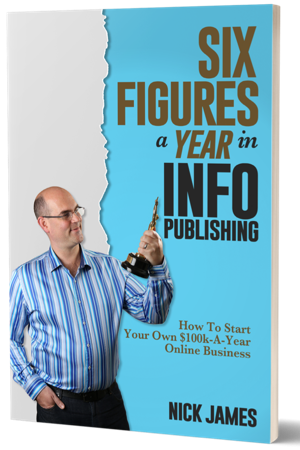 Get this book shipped to you by priority mail today – no matter where you live in the World.
Discover…
The Four Strategies you can use to create a $100K per year online business.
The Zero-Cost Marketing Method they never teach at 'business school' but could easily be how 80% of your customers find your products.
The Walt Disney Principle that built a multi-billion dollar corporation and the effect it could have on your own entrepreneurial success.
And more!
Click Here To Request your free copy of "Six Figures A Year In Info Publishing"
Category:

Latest Updates
Preselling Tip Number #1 – Using Video Demonstrations. And that's to show your target audience a video demonstration of how to use your upcoming product… And The Ultimate Benefit of using it. You see when people better understand a product and what it can do for them the more persuaded they will be to spend their hard earned money on it when it becomes available.