I want to open up this article with a screenshot I took the other week on my phone while scrolling through Facebook.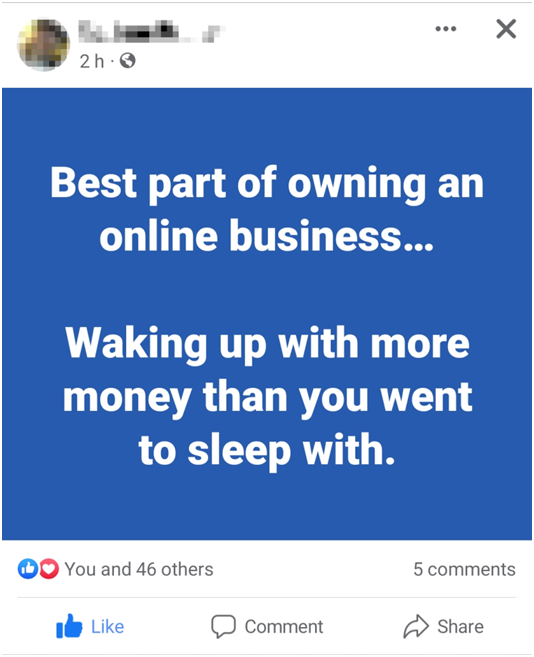 For privacy reasons, I have blurred out the face and name of my friend as he only shares posts with close friends and family. He has given me permission to share the actual post.
He is a copywriter and an information publisher. He is a digital entrepreneur who runs an online business that he can take anywhere in the world… a business that can make sales on autopilot while he sleeps.
As his post shows, when he wakes up in the morning, he has more money in his bank than when he went to bed.
It happens to me too… (unless I leave the gas hob on ALL NIGHT like I did yesterday evening – after cooking a romantic meal for Kate that is!)
And it can happen to you too.
Running the kind of online business I and my friend have requires content… Quite a lot of content.
There are two types of content that you'll need for this type of business.
The content you give away for free to grow your business, articles, podcasts, videos, newsletters, and reports, etc. (Read about the Freemium Business Model here.)
The content that you sell. eBooks, eCourses, newsletters, and continuity programs (subscription memberships) etc.
As I say there is a lot of content needed… but the good news is, all of that content can make you a lot of money.
It depends on how you use it.
When it comes to creating content, you have three options:
1. Write it yourself.
2. Hire a ghostwriter to write it for you.
3. License pre-made content.
Let's look at each one in more detail.
Write It Yourself
This is quite self-explanatory. You write all of the content yourself.
This is great if you want to be a one-person content factory where you can go telling everyone that you created a ton of content which made you a lot of money.
You can save a lot of money if you do it yourself, but… unless you are incredibly fast you can lose a lot of time, and time is a precious commodity when it comes to an online business.
You need to be prolific to make money from your content.
I know that I say it over and over again that you can create one piece of content and sell it to hundreds of people making big money, it's true… but when you run a successful and profitable digital information publishing business you are not going to be selling just one eBook or one monthly newsletter.
You are going to be selling several products which need creating, managing, and promoting with free content.
A prolific writer can make a lot of money churning out content day in and day out… but it can be incredibly hard and you can actually lose money because most of your time and effort is wrapped up in creating content instead of getting it out to market.
The next option allows you to churn more content out without burning out.
Hire A Ghost Writer
James Patterson is one of the wealthiest authors of all time. He publishes multiple books each year, more than he could possibly write… and that is because he doesn't write them all.
Rumour has it he publishes books under his name which he has never touched. Recently he has started to name co-authors on his books when they are published but before he used to hand the bulk of the writing over to ghostwriters.
Patterson would come up with the story ideas, plots, characters, and twists and then hand them over to the ghostwriters to flesh them out. For all intense and purposes, Patterson was simply an 'ideas man'.
He came up with the ideas, paid writers to write the books for him, and then sit back and rake in millions of dollars from publishing multiple works each year.
James Patterson is a popular author and he can afford to pay the large sums of money that ghostwriters usually charge.
In the early years, Patterson wrote all of his own content. It wasn't until he was successful that he branched out using ghostwriters to write books for him while he focused on growing his publishing empire.
Ghostwriters can be extremely expensive and it is not recommended that you start your publishing business using them unless you have adequate funds or you find a decent writer who won't charge you an arm and a leg.
There are some but it will take time to find them and it can be costly to hire and test a few cheap writers trying to find the right one.
There is another option, and in my opinion, probably the best one to get started with because this is exactly how I started growing my multimillion-dollar business.
License Pre-Made Content
This is by far the fastest and cheapest way to grow your online information business.
Licensing pre-made content means that you have a stack of content that you can use as soon as you have paid for it.
People get put off using pre-made content because they fear that other people are using it and that by being seen to sell or use the same content as other people makes it bad for business.
Let me lay those fears to rest.
Yes, other people who have purchased the same content are using it… but they will be using it completely differently from you. In fact, it will be incredibly rare that two people who know what they are doing use the same content in exactly the same way.
The trick to using pre-made content is not to simply add it to your website as is… You first modify it (a bit).
You make a few changes to it, you add your name and personalize it.
You add bonuses and extras to it and change the name and give it a completely new cover so that it is uniquely yours.
Recently I purchased the license to a product and its sales letter for just under $2,000 which has already gone on to earn me four times what I paid for it, and it's only been a couple of months.
Over the next five years, that one product is going to make me a decent amount of money.
I didn't simply publish the product as it was given to me, I gave it a new cover, I added plenty of personal information such as examples and case studies, I added extras and bonuses to the product to make it mine, and completely reformatted the look of the sales page so that it looked completely different to anyone else who would be selling it.
That product is mine… because I made it mine.
When you purchase the full Private Label Rights to a product, you can change its name of it and put yourself as the author. It becomes your official product.
It may take a few hours, possibly a day to make a licensed product your own, but that is nothing compared to how long it would take to actually create the product yourself.
The product I licensed for under $2,000 had a lot of content, it would have taken me weeks to create it had I done it all myself. Because I purchased the pre-written content with a full Private Label Rights and made it my own, I was able to sell it as soon as I had made the necessary modifications.
I made sales within days of making the purchase.
A lot of people try to save money by creating the content themselves which is great if you have discipline, but most people who start to create a product stop and never finish it. They never have anything to sell or anything with which to sell products with such as a lead magnet.
Creating content with today's technology may be easier than it was a decade ago, but it is incredibly time-consuming and if writing isn't your forte, then it makes more sense for you to find an alternative way to amass the content you need to sell or give away.
Licensing pre-written products and content is probably the way forward for you.
I can tell you from personal experience that licensing products has made me a lot of money. It's how I started in this business and I now run a multimillion business thanks to using licensed products.
If you would like to discover how to license products to use as your own and how easy it is to rebrand them for your own use, check out my proven formula here: