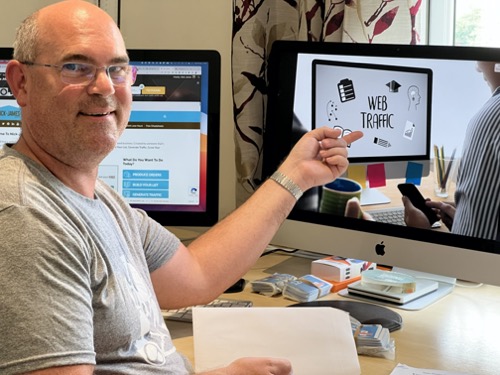 We live in the greatest time of human history where the average person can make money from the comfort of their homes selling digital information products to people from all around the world at any time of the day and night… all on autopilot… for a start-up price costing less than two tickets to see the band Coldplay.
Yes, seriously!
Two tickets to see Coldplay on their current World Tour (2022-2023) will cost somewhere around $320… that is for the cheapest tickets mind.
You can start an online information publishing business for as little as $300.
In fact, there are ways to start one completely free, but I don't suggest that you try because you will have little control.
With a small investment of $300, you can have your own website, where you control what you sell, how you sell it and to who.
I cannot 'wax lyrical' enough (get any more excited and enthusiastic) about how wonderful it is today to be able to run your own online digital information publishing business, it is an incredibly profitable business and one of the easiest to manage… but I will say this…
You cannot make sales if people do not know about your products.
For people to know about your products, you need to have people regularly visiting your website and reading your sales pages and content.
Even though we are living in the greatest period of human history where the average person can make money at any time of the day and night on autopilot from home, sales do not just magically happen.
It may look like they magically happen, but a sale cannot happen without a person discovering what it is you are selling, and those people need to be directed to your websites and product sales pages.
We have access to the greatest tools and services allowing us to make money as we sleep, but we still need customers… and they don't just appear out of thin air.
Your website, loaded with a dozen digital products, primed and ready to process sales is (in many respects) just like a campsite buried deep within a forest, several miles away from the only road in the area.
So, with this analogy in mind… just picture this for a moment…
Leading to this campsite is an old dirt track.
However, as you drive down the main road you could easily miss the turning onto that dirt track that leads to the campsite. And even if you do see it… you wouldn't think it went anywhere.
To get people to the campsite, you need to place up signposts which can be seen clearly by any vehicles approaching the old dirt track from either direction.
These signposts need to inform people 'several miles before' the upcoming turning onto the old dirt track which leads to the campsite… and then again repeatedly, several more times, along the same road as the turning gets closer (one sign in each direction is simply not enough) … You need to place several signs to ensure every driver of every vehicle can see exactly which turning to take to end up at the intended destination of the campsite.
Now let's think about your website for a moment.
Just like the example of the campsite buried deep within the forest, your website is buried deep on the internet.
Without clear signposts, no one will ever find your website, meaning that until you fix this issue, just like with a campsite, you're unlikely to make any real money until this issue is fixed and you have put up plenty of signs.
Incidentally, people visiting websites is also called 'traffic'.
Your website which can automatically process sales 24/7/365 also needs multiple online signposts directing people towards it. Without them, people cannot find your website, and without visitors you cannot make any money. It's a vicious circle.
So, with this in mind, In this article, you are going to discover the 8 most powerful signposts you can use to send people to your website which will result in sales.
Most of them are online signposts and the great thing about constructing these online signposts is that they can be made once, added online, and then left to direct people to your website for many years to come.
Okay, so you have your website up and ready to make sales, let's now send people to it.
YouTube
I'm sure you don't need an introduction to YouTube.
Originally started as a video-sharing platform, YouTube has grown to become more than that. It is the second biggest search engine after Google and is also owned by Google.
People don't go to YouTube to just watch cat videos or funny fail videos, people go there to search for information and learn new skills.
The great thing about YouTube is that you can upload as many videos to the platform as you want for free and unlike other social media platforms, new uploads don't disappear into the cyber-ether never to be seen again after just a few minutes/hours/days.
Your videos are often recommended alongside other videos so that means a video uploaded five years ago can still be found and watched regularly today by many people.
It is also possible that an old video that has not been seen by many people can still be found and 'go viral' several years after it was uploaded if it is watched and shared by the right people.
Recording videos and uploading them to YouTube is relatively easy and can cost you nothing depending on what kind of content your videos focus on.
You could simply record yourself talking about a specific subject using the camera on your smartphone, upload the video directly to YouTube and point people to your website by putting a link in the description box underneath the video as well as add a web address on the video where you tell people to visit your website to 'learn more about XYZ'.
This can all be done free or relatively cheaply.
If you record a new video each week and add it to YouTube, you will eventually have 52 videos (aka sign posts) after one year all directing people to your website.
Keep recording a new video each week and you could end up with a huge library of videos, all pointing back to your website which can be found by people for many years.
Podcasting
Podcasts are similar to YouTube videos apart from that they are audio only. People love to listen to podcasts while they go for a walk, go for a run, clean the house, work, and drive their car.
I know people who listen to podcasts in bed before they go to sleep. They are a great source of information and a great way to learn.

They are also a great way to build up a following and a reputation.
Podcasting is a great way to get traffic to your website however, I believe that you should only consider doing podcasting if you either already have another traffic source in place or you really love the idea of doing a podcast.
The reason I say that is because for people to hear your podcasts, you need to get people to know about them and so you are back to square one.
Podcasts can be distributed across numerous big podcasting platforms like Apple, Anchor FM (owned by Spotify), Spotify and many other places, which means that your podcasts can be placed in front of a lot of potential listeners.
You can host podcasts on your own website too but having them on dedicated podcasting platforms means that people can find them easier but you will still need to actively tell people about them.
And that is the same issue as trying to get people to your website and that is why I believe that you should focus on sending people to your website first because there they can join your email list first or perhaps even purchase a product. Once on your list, then you can invite them to listen to your Podcast.
And should anyone 'stumble across' your podcast, they can only listen and then move onto your website after clicking on a link in the summary.
Podcasting is a great source of traffic but it shouldn't be your primary or only source unless what you teach is ideal for podcasting and videos.
Many doctors and specialists get a lot of traffic by focusing on podcasts and videos because they are relatively easy to create. Check out this interview video by Dr Rangan Chatterjee and Dr Jason Fung: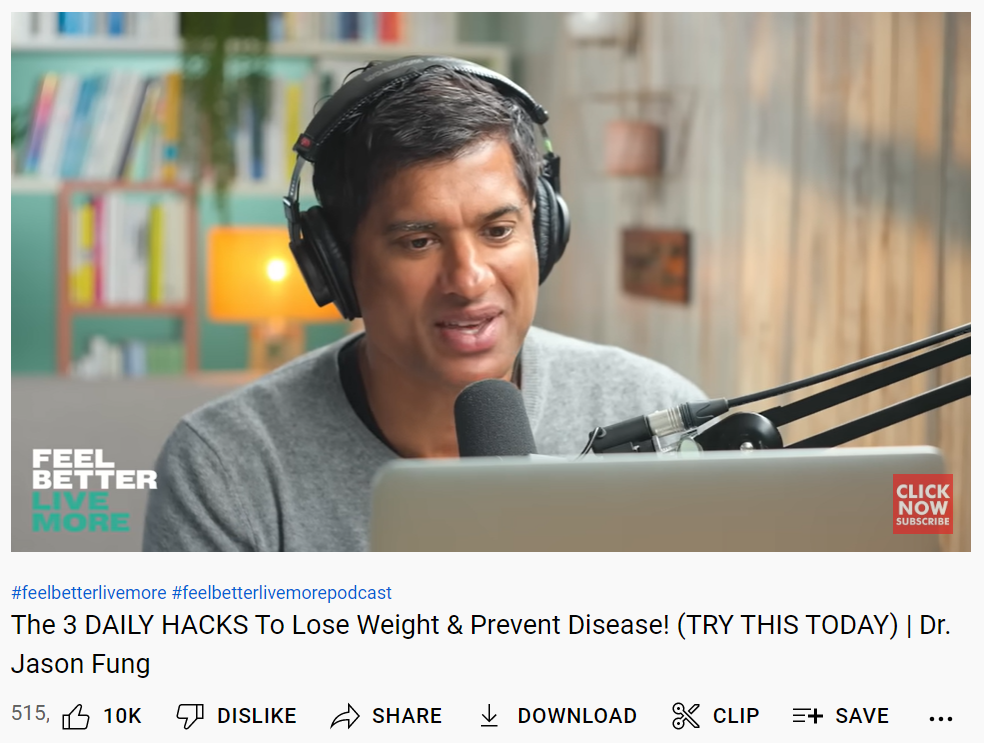 Watch the video here > https://youtu.be/iyzXnFCRWaY.
In the above example, you will see that popular author and Doctor Rangan Chatterjee records simple interviews which he uploads to YouTube, and why am I showing you this?
Top Traffic Tip: Record your podcasts as videos first like the above example then strip the audio away to make an audio podcast. You now have a video that can be shared on social media and uploaded to YouTube and you also have a podcast that can be shared on all of the podcasting platforms. Take that audio recording and have it transcribed into an article to add to your website.
You can listen to one of our popular podcasts here: Internet Marketing Newsletter Podcast
Search-Engine Articles, Guest Posting & Medium
The next form of signpost is one that can be quite powerful if done correctly. This signpost is an online article that points people directly to your website.
There can be quite a bit of work writing a quality article but they can send a lot of people your way.
There are three placements of articles I am going to list here, there are others but I don't want to over-inform you otherwise you will get information overwhelmed and that could result in you doing nothing or spreading yourself too thinly where your efforts are weakened.
Search-Engine Articles are articles that you write to be 'found' in the search results when people search for a specific 'keyword phrase'.
These articles are usually added to your own website so that they can 'suck' traffic from the search engines.
For example, let's say that you are selling a product teaching Email Marketing and that you have found that a lot of people are searching Google for the keyword phrase 'how to make money as an email writer' and that there are very few websites ranking in the search results for that phrase… i.e. little to zero competition.
You would write a long and informative article, known as a skyscraper article, using that keyword phrase and as many other relevant keyword phrases as possible without it making the article hard to read.
That article should eventually land on the first page of the search results resulting in it being found by a lot of the people who search for that and any related keywords. Those people may click the link to read the article on your website.
Once you have one or several articles on the first pages of search-engines, you will have an abundance of regular website visitors all coming to your website for free.
Guest Posting is the next article placement you should consider. Some people say that you should consider this first, or at least do it while doing Search-Engine Articles because you are going to hijack the readership of an already established and popular website.
You approach other website owners (in a similar niche to you) who have a large number of monthly visitors and you ask if you can write an article – known in the industry as a guest post – for their website.
If they say yes, you write a good quality article that will have at least one link back to your website.
If the website owner likes your article, they will share it across social media and send an email to their email list informing them of the new article which sends a flood of traffic to your website.
When people go to read the article, many of them will click through to your website to learn more about you and to read more of your content.
You can also write those guest posts with keyword phrases to help pull readers from the search-engines. That way, you have other articles landing in the search results which point back to you and your website.
Medium is a giant 3rd party blogging platform that allows users to publish content to it.
Some people who publish regularly can earn a lot of money once they have joined the Medium Partner Program, but that is not what you are using Medium for. (The money is a nice bonus though.)
You are using it to hijack its already large readership. It is a place to publish content for free which can be read by people who can then click through to your website.
I recommend writing new content for each placement. Don't publish the same content in different places on the web otherwise, you run the risk of being penalized by the search engines.
If you are going to focus on doing all three, deliver different content for each. Besides, a website owner who said 'yes' to you writing a guest post would not be happy if you simply sent him the same article you had published to your own website and Medium an hour or two before.
Your articles will sit online working as 'signposts' for many years until you either delete them or the platform they are published to, ceases to exist.
Social Media
Social media platforms such as Twitter, Instagram and Facebook are free to use. They can be a great source of traffic, but they can also be a lot of hard work.
Some social media platforms lend themselves nicely to specific content such as being able to share articles and others don't.
Instagram is a picture and video-based platform which does not allow you to link back to individual articles or websites within each post. You can only link to one page from the bio area of your profile.
Top Tip: It's common practice to link to a Link Tree page which is a simple page with a lot of buttons linking out to a series of interesting articles and pages on your website or to other social media accounts.
In my 'humble' opinion Instagram is terrible for sharing articles, but it can be great for sharing videos. So my advice would be to convert your articles into videos before sharing them on Instagram which can then send people back to your website.
Facebook and Twitter allow you to post a link to your articles and sales pages with a specific amount of text. Facebook allows you to write virtually as much as you like whereas Twitter allows you to write approximately half a coherent sentence.
If you can utilize each social media platform then do so, but don't waste a lot of time on them if it distracts from other traffic methods which (in my experience) are much more fruitful.
By all means, share articles on those platforms if you can, but don't waste time trying to record videos or create images that will be seen by a handful of people when the articles you write are being seen by hundreds or even thousands of people.
Just do more of whatever works for you.
Twitter, Instagram and Facebook are handy if you are creating videos for YouTube already because you can share or upload them on those platforms too without having to create new content.
Let's move on…
Paid Advertising
This form of traffic generation can be incredibly powerful, but it can also go badly wrong if you don't know what you are doing.
I suggest that you start with your eyes wide open and test with small amounts of money until you get the hang of it.
Paid advertising, or PPC (Pay Per Click) and PPA (Pay Per Acquisition) as it is often referred to, is done as part of a plan with an end goal in mind such as sell a product or getting people to join an email list so that they can be exposed to product promotions.
You don't simply pay to send people to your website unless there is a way of turning them into a buyer or a potential buyer. That would be a complete waste of your money.
The idea of business is to make money, and not spend it getting people to read and enjoy your content. Warm and fuzzy ego feelings won't buy your freedom back or put food on your table. 🙂
There are many paid advertising networks where you can pay to send people to your website.
Facebook
Instagram
YouTube
Twitter
Google Ads
Rev.com
Outbrain
Taboola
Paid advertising can be incredibly powerful if you use it as part of a marketing funnel where you send people to a sales page where they buy a cheap item that pays for the advertising.
The aim should be for every $10 spent on advertising, you earn $10 or more back so that you are effectively 'buying' free traffic.
When a system is fine-tuned and working well, you are not spending thousands on advertising but simply recycling that same $1 thousands of times.
Profit is then made when those who buy the first low-cost product go on to buy one or more follow-up products and opportunities.
Email Solo Ads
Email solo ads are similar to paid advertising but instead of adverts being shown across networks, in newsfeeds, on or around videos, and on websites, adverts are shown in email messages.
Email solo ads can either be a banner advert within an email newsletter or it can be a complete sponsored email that is sent to a large list of people who are all 'opted in' to the email sender's list.
There are websites dedicated to selling email solo ads where you can connect with people who have large email lists and who will send emails to those large lists with your advert/details for a price.
This is another form of traffic generation that can be great if done correctly or it can be costly if done wrong.
It's very hard to know the quality of a person's email list until after you have paid to send an email.
Just because a person has an email list of 50,000 and they say that it is responsive to specific offers, doesn't mean that it necessarily will be.
Some people build big email lists comprising of anyone and everyone just so that they can make money selling solo ads.
Sending one or several emails to a list each day for $200 or more per solo ad can be an incredibly profitable business.
You just need to try and find the best people with the best lists and test.
Affiliate & Partner Traffic
This is an incredibly powerful way to send traffic to your website.
Similar to guest posting and email solo ads, you hijack an already established traffic source by teaming up with people who have a large list of buyers and followers.
I say hijack, maybe 'borrow' is a better term… well actually, you pay for it… but you don't pay until you have what you need.
Confused?
Let me explain…
With this method, you pay people to send their customers and followers to your website and sales pages but you only pay when a person does what you want them to do.
For example: let's say that you want to build an email list of people who are interested in learning how to make money selling websites.
You create a short report which you intend to sell for $7 and then approach people who sell courses on building websites that have a big list of customers and offer them a commission for every report that is sold to people they send to your website.
For people who have large email lists of customers and potential buyers, sending an email directing people to a sales page is easy money for them.
You could also add your product to an Affiliate Partner market place like Clickbank.com or JVZoo.com where you offer people a commission for every product they sell for you.
For a $7 product, you could offer a full 100% commission meaning that anyone who sends people to your sales page via their Affiliate Partner link will receive $7 every time one of their customers buys your product.
The more you charge for a product and the bigger commission you pay to Affiliate Partners, the more Affiliate Partners will want to promote your product and send people your way.
Every time someone buys your report, you add another new name to your email list.
You can pay Affiliate Partners to send people to sign up for a free report and only pay them when someone signs up.
That is known as a CPA (Cost Per Action) and will come out of your pocket whereas selling a product and then paying the Affiliate Partner a commission means that the product itself is earning the money you pay out.
If you choose to do a CPA and pay people to send traffic to your website where they sign up for a free report, you MUST have a second and third product ready to offer those who sign up so that you can earn your money back within a few days.
Joint Venture partners are people who usually take a 50-50% share of the revenue. These are generally big players in a specific industry that can send a ton of traffic your way.
Not wanting to blow my own trumpet… but there is no other way of saying this… I am one of those 'Super Affiliates' in the Information Publishing industry and can send a lot of traffic to the right offer when I want to.
If someone approached me to send people to their product, I could send a lot of people their way and for that, I would want at least 50% of the profit made from the sale of a product.
The reason why Joint Venture Partners and Affiliate Partners get paid high commissions?
If you had a product for sale on your website priced at $297 and you made 20 sales in three months, you would have earned $5,940 if you kept the full 100%.
However…
If I sent a couple of emails to my email lists over a week sending several thousand people to your website and you made 500 sales of the same $297 product, you would earn $74,250… and that's AFTER you have paid me 50% in commissions!
Would you say no to that?
That is why Affiliate & Joint Venture Partners earn commissions above 50% and why this is such a powerful way to drive traffic to your sales pages.
Direct mail
I love Direct Mail.
I chose to leave this one to last because many people ignore its potential and believe that it is no longer a viable traffic method today.
Nothing could be further from the truth.
In fact, I would say that we are currently at the turning point where it's about to become popular once again, in a similar fashion that people are buying and reading more physical books and listening to more vinyl records.
The pendulum is swinging back to real physical mailings because they are tactile and they 'break' people's thinking.
People see thousands of online adverts each day fighting to their attention… and they also receive hundreds of emails every day. There are so many online marketing messages for people to take in that the human brain starts to filter out a lot of online 'noise' and the net effect is that a great deal of online marketing is simply being ignored and passes by unnoticed.
Just take a look at your own email inbox as a live example… do you read all your emails?…. Or do you 'pick and choose' which emails you want to open and read? If you are anything like me, you check who the sender is first… Then the subject line… and perhaps the 'teaser' or 'preview text' to decide whether or not the email will be opened or deleted unread.
This means that there's a high chance that a substantial percentage of your emails (or any email sent by an Affiliate Partner) could be one of those which are ignored/deleted.
With traditional direct mail, you send a one or two-page mini sales letter to a potential prospect on a list that you rent from a trusted and reputable source.
When this mailing lands, because it is 'a real letter' addressed to the precise person you're wanting to read your message, using their full name, they feel inclined to open it and see what it is and who sent it.
and that's all we can ever hope to get from direct mail, to get our messages, delivered, opened and read.
What do you do when an envelope with your name on it is pushed through your door?
If there's no 'teaser copy' on the outside of the envelope… and it looks like a personal letter… you open it.
You have to look at it in case it is important.
Human nature drives us to open the mail which is addressed to us… unless you are absolutely sure who it is from, like an electricity bill or a letter about your credit card, and do not want to know how much you owe.
Direct mail is a tactile experience.
The recipient holds the envelope in their hands and they are naturally forced to look at it.
Even if it is just for a brief moment, you stopped them in their tracks; you broke their thinking and forced them to 'check out' your offer.
On that mini sales letter, you will have included a web address so that they can check out full details about your offer online.
They simply type out the web address into a browser using a smartphone, tablet or laptop (or scan the QR code if you use one for a faster direct route to the sales page) and take a look at what you want them to really see.
The only downside to direct mail is that it comes with a cost… but in my experience, this is nowhere near as costly as using Facebook Ads or Solo Ads.
So, yes, there are the printing costs, material costs, the cost of people stuffing hundreds or thousands of sales letters into envelopes, and the cost of actually sending the mailing through the post. But it's not as expensive as you think.
If a simple mailing costs you $1 per letter, 1,000 letters would cost you $1,000 so it is imperative that you have a strong sales letter and a strong offer so that you earn that money back along with a profit.
Direct mail is powerful and I believe that it is only going to become more powerful thanks to most people now focusing exclusively with online methods.
People are receiving less and less mail in their physical mailboxes and so there is less 'noise' and competition meaning that your direct mail is also more likely to get the recipient's full attention.
I make a lot of money using direct mail and I will continue to do so for many years to come and I urge you to give it a try yourself one day. In fact, if you ever get an opportunity to learn from a direct mail marketer, my advice would be to 'move heaven and earth' to listen to every word they say.
Conclusion
So there you have it, 8 powerful ways to direct people to your website, sales pages and products.
They all require different levels of work, some are easy to do, some are a little more labor intensive, some cost nothing to do whereas others can cost quite a bit to implement.
Most are online and become signposts that sit online waiting to direct people to your website whereas some are single use like email and direct mail which get sent and then get binned or deleted.
They are all great and I would suggest that you start with one method and stick with it until you master it before trying another.
However…
As you have seen with the YouTube video method of driving traffic to your website, if you plan your content well, you can use the audio to make podcasts and have that transcribed into a written article, effectively giving you three main sources of traffic generation from one piece of content.
Before starting, I suggest that you also consider what it is that you want to achieve and what you want to do with that traffic because some of the methods mentioned will deliver big results fast and so if you want to build an email list fast and make money, it may pay you to focus on using Affiliate & Joint Venture Partners instead of writing hundreds of articles.
Whichever method(s) you decide, choose carefully and give it all of your focus and attention because the best traffic method of all… is consistency.
Here's to your continued success!