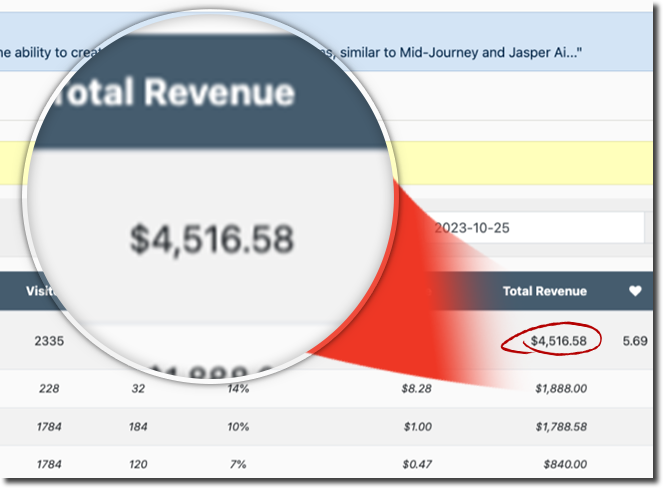 Recently, I banked an impressive $4,516.68 setting up a quick dime sale offer for a new product I had created.
Well, I say new product, it was a newish product created from content that I had previously created together with a quick 40-minute video Kate and I recorded in our living room, sat in front of an iPhone. We clicked 'record' having just finished a launch promotion for an entirely different project.
I gave the product a new name, added some bonus content, created a short sales video (again just using my iPhone), and threw together a really short, sales letter detailing all the benefits of what the customer would receive by securing a copy of the product – especially during the special offer promotion we were about to start.
The initial offer was set up as a 'dime sale' on the Warrior+ Plus network starting at $7 and finishing at $12.49 before the sale finished.
A Dime Sale basically means the price increases after each sale. In this case, I set the price to increase by 3 cents after every sale. (But you can control exactly how much gets added each time a copy is sold).
In the week the special offer was running, we had 184 sales of that initial product at prices ranging between $7 and $12.49.
184 sales is pretty good in my book, considering it was just a quick special offer to our email subscribers, but it doesn't stop there.
Those 184 sales gave me a total of $1,788.58.
The other $2,728 came from the sales of two other complimentary products that we added to the sales funnel as 'optional add-on products' which we offered on the secure order form or immediately after the dime sale product was purchased.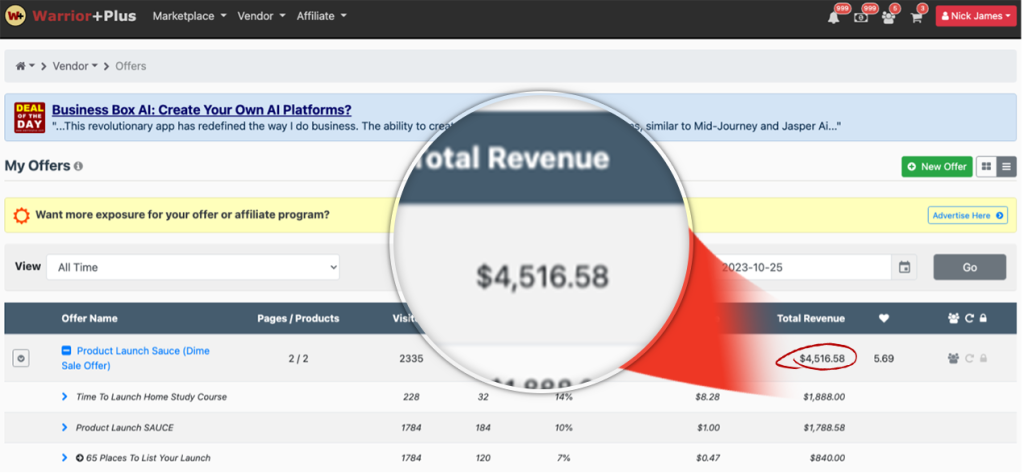 Those two extra products resulted with:
120 sales of the first add-on product called '65 Places To List Your Launch' which was priced at just priced at $7
32 sales of the 'Time To Launch Home Study Course' priced at $59 (I only meant to sell 30 copies in total but then 3 sales arrived all at the same time in the last few minutes the special offer was available).
65.21% of the people who bought the initial front-end product, Product Launch S.A.U.C.E., went on to buy the first $7 add-on product which was only shown on the secure order form as an 'offer bump'.
17.39% of the people went on to buy the $59 home study course which was shown immediately after the checkout process had been completed.
The 'dime sale' was a success because it was a quick project that only took a few hours to create and pull together. And, it was offered to customers via a series of pre-written emails that were scheduled to be sent out during a week when nothing else was happening in our business. In fact we were pretty much out of the office for the entire week the 'dime sale' offer was live.
I made it clear that the dime sale was set for a specific period and that once the time was up, the price of the product would increase to $97.
I also made it clear that not long after the price had increased to $97 it would be removed from public sale for good… and that if they wanted to get my Product Launch S.A.U.C.E. for a ridiculously reduced rate before it was gone for good, they needed to act F-A-S-T.
And people did.
The important part here is that had I not added the two other products as 'add-on' products in the form of 'order form bumps' and an immediate upsell, which are only seen by customers at the time of purchase, I would have only made $1,788.58 – which is still great – but I would not have made the extra $2,728.
And do you know what actually helped to make those extra sales for the order form bump offer?
Just THREE extra lines of text and an eCover image of an extra report.
Those three extra sentences and that eCover image helped me bank $840 from 120 sales of a $7 product.
It was only after that whereby the people who bought the low-cost dime sale product were then shown another sales page for the more expensive full home studt course product resulting in 32 sales and $1,888 extra profit.
Another point I want you to think about is that I did not spend a penny on any advertising.
For this project, I only sent a handful of emails to customers on our inhouse email lists which resulted in us banking $4,516.58.
This is what I call Cash-On-Demand!
Yes, I needed to create the products first, but they don't really take long.
For the most part, the products were already made as I used a lot of content that I had used before. I added a few extras including the new video we recorded on the iPhone and simply gathered it all together.
Yes, I needed to create a series of sales emails, record a couple of videos and put a couple of quick sales page together, but again, that doesn't take long either… Perhaps 4 hours at the most.
But, let's say that it took twice that long… Let's call it a full day to put the whole thing together, making $4,516.58 is a great return for a day of your time, don't you think?
There are a lot of people who sadly don't make that in a month with their day jobs, let alone one day.
Sure, the sales came in over a week-long period… But everything was set up on a complete 'autopilot' style basis. Which meant we did not have to be on hand once everything was up and running.
Let's face it, that is the kind of initial cash that can really help a person out.
Not forgetting that now the $97 product has been fully created and the automation systems are all in place… If I decided that I wanted to, I could leave that offer online permanently and it would generate more passive sales month after month.
However, I've actually decided to simply add the product offering to my Private Coaching Program (which is 'up to' a $15,997 investment) so right now that product is no longer available to buy… But if I had left it online at $97 I could surely have made several thousand dollars more over the course of the next year, without doing anything else.
Does that get your creative juices flowing about what type of information products you'd like to create?
Another point that I want you to think about is that in this case people bought a digital product offer.
There were no additional costs associated with manufacturing or delivering anything by courier to the buyer.
As soon as the purchase was complete, customers were instantly forwarded to where they could digitally access their purchases via a secure password-protected download area.
It was all automatic.
Once everything was set up, I had to do nothing other than pre-schedule and send a handful of pre-written emails to our email subscribers.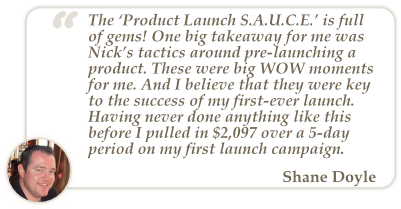 If what you have read above excites you in any way, And you too would like to enjoy this kind of money hitting your bank account, then I can help you set up your own online business that will have you earning thousands of dollars each and every month selling digital products that are incredibly easy to create.
Just like I have done for many others. the most recent of which was Shane Doyle, who pulled in $2,097 with his first-ever product – having never done anything like before.
If you'd like to learn what we showed Shane, you can discover more by clicking the link below:
In the very first module, I will show you how you too can create a product you can sell for $97… and you can discover how to create and set everything up to be fully automated in just a matter of days.
Then, once you've done that, let your imagination run wild, thinking about the possibilities of how many more products you could create … and how many more offers you could upload to the internet and become your 'set and forget' projects…
… Everything can soon add up to a whole lot more than 'just' $4,516.68 I can tell you. Go take a look at Serious About Six Figures now and see how you get started on this exciting journey yourself.
Starting today.