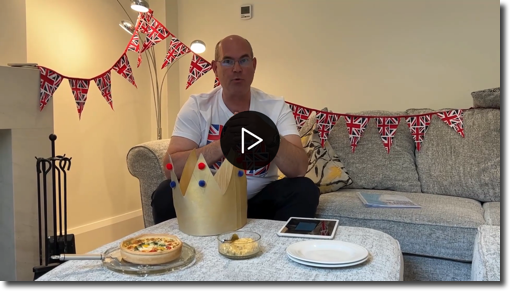 That's right… I recently made $5,104.09 selling a product which was born from an article I started to write.
Before I share the details of what the product is and how I made it so profitable, know this… this product is now online and can be sold for many years to come.
In a few months' time, I could run another email campaign sending people to the product generating more money.
I wouldn't be surprised if I will have made over $10,000 by the end of the year selling that one product.
Ok, so let me explain what the product is, how it came about, how I sold it, and how I made more money from it.
$5,104.09 From One Day's Work – Case Study.
The product is a short eBook that first started out as an article I was writing for my website.
It started to grow and I liked the way that it was evolving into a complete blueprint for helping complete newbies build a six-figure online business without spending a penny of their own money.
As I wrote, the article became longer and more detailed, I thought to myself, 'this is an ideal report or eBook for helping people to get started'.
Once the product was complete, I created a series of accompanying PowerPoint slides and recorded myself talking through the content I had written.
The reason I recorded the video is that people learn differently, some people prefer to read while others prefer to watch videos and listen to audio. Also, it adds value to a product.
The eBook and the accompanying video took about half a day to create.
I now had an eBook and a video, plus… I also had a live recording from a weekend workshop where I talked about the ideas and content that was in the eBook, which I could add as a decent bonus adding more value.
About that weekend workshop recording; before I started writing the article (I had an idea what I was going to write about) I was asked to talk at a weekend workshop run by a good friend.
Knowing that my talk was going to be an hour long and I was going to be given the recording to use as I pleased, I decided to talk through the same content of the article I was planning to write.
Which was very fortunate looking back now, I couldn't have planned it any better had I tried. The recording of that talk made a decent addition to the product I'm telling you about.
I now had a decent product to sell, and it took roughly six hours to create.
I now needed to create a sales page and some basic marketing materials for the product.
This didn't take too long to do, mainly because I decided to create a short video where I talked about the product and how and why people should buy it. I then added the video to a new page on my existing blog website.
Tapping Into Major & Current Events
As there was the Coronation of King Charles happening around that time, I decided to use that major historical event to host a 'sale'.
Using major and current events – Coronations, Black Friday sales, Boxing Day sales, The Soccer World Cup, the Super Bowl etc – you are tapping into, and connecting with the public's collective mind.
I spent less than $20 buying a Coronation T-shirt and some Union Jack bunting to be used as a focal point in my video. This is called a pattern interrupt as it interrupts a person's thinking and draws them into the video.
They see me wearing the T-shirt and the bunting draped across the sofa and it stops them in their tracks forcing them to think 'why's he wearing that? What's with all of the bunting? What's this all about?'
The video is only two minutes long.
Creating Urgency With A Dime Sale
I hosted the video sales page on my website but used the Warrior Plus network to process the orders as it allows me to create a dime sale. I just had to add a snippet of code to my web page and I was ready to go live.
A dime sale is where I start off selling the product cheaply and the price increases with every sale or as a specific time passes.
This creates a state of urgency in buyers as the price goes up gradually until it finally hits the full $97 price.
No one wants to pay the full $97 asking price if they can get it for just a few dollars.
Why would you?
Being offered the chance to buy a $97 product for a few dollars is a fantastic deal, a person would be foolish to pass it up if they were interested in what the product could do for them.
People are inclined to snap up a bargain fast before it's too late. It's human nature.
If you could get your hands on a $97 product that you like the look of for just $7… wouldn't you act there and then?
With the price increasing every time a sale is made, people are forced to act fast to get the product at the best bargain price.
If they fail to act, they price goes up and the longer they delay, the more it will cost them.
The video sales page promoting the initial product had a very decent conversion rate of 14.53%.
Because of the subject matter of the product I was selling, I had another product that was relevant and would make a wonderful addition. This product became my only upsell offer in the marketing funnel.
This was a new product that I had created to be released later in the year, (again for $97) but it perfectly matched the new product I just created, So I decided to offer it as an upsell for a pre-launch 60% discount.
I actually think that I priced this upsell too low as I sold more than what is usually expected for an upsell.
Usually an upsell is expected to be bought by 20-30% of the people who bought the original product thats being sold; my sales for the upsell offer stand at a more-than reasonable 32.37%.
Maybe the fact that a lot of people bought the initial product for a few dollars compared to the final $97 price was a factor.
Serious customers often don't mind investing further for an upsell offer which when combined with the initial product purchase is still far cheaper than the intended $97 final price of the first initial product.
Here's why. Firstly they are getting a decent bargain if the buy the initial product for just a few dollars, but if they snap up the upsell at the same time, they get a lot of additional useful information for another ridiculously good price.
Secondly, later in the year, both products are priced at $97 each, together they would cost $194, but as part of this special 'Coronation sale', people were able to get both for far less than the price of one.
It's crazy not to when you think of it like that.
Promoting The Product To Make Sales
Once the products and the sales page were online and the dime sale ready to start, I wrote a series of emails and sent them to the people on my email lists.
I didn't run any paid promotions or adverts.
This was all FREE traffic that was going to the sales page.
That one promotion made $5,104.09 and it only cost the price of the T-shirt and the bunting.
Everything else was free.
It gets better…
The initial product cost me nothing to produce and took less than a day to put together.
That is over $5,000 in profit for something that took just a day to create.
When I say a day… I do mean a day.
A Product And Sales Funnel In A Day
When you take the time that it took to create each piece and add it all together, you will see that I created the whole product and sales funnel well within a 24 hour period.
The sales video took just 2 minutes to record. It required no editing. Even if I took 3 or 4 attempts at it, it would still only take me 10 minutes or so.
The upsell page also had a video which was also only 2 minutes long.
I knew what I wanted to say in both videos because I had spent 10-20 minutes writing down some points.
The actual eBook part of the product took the longest time to create but that took me no longer than 6 hours to write and format into a decent looking downloadable PDF.
The slides took 30 minutes to create as I basically copied certain points from the already written eBook; the video took an hour to create as I read the eBook out into a microphone and went through the series of slides.
The sales materials, and setting up the dime sale marketing funnel with WarriorPlus took no more than three hours to build and get online.
The promotional emails took about 30 minutes to write.
The recording of the weekend workshop was already done but it is an hour long so let's add that to the time.
The upsell, well that was a product that I had in my portfolio already and so we won't count the creation time for that.
So… the whole product and sales funnel took roughly 9 hours in total. To be super safe, let's say that it took me 10 hours to create.
With 14 hours left for the day, you could quite easily make a decent upsell in that time if you don't already have one.
$5,104.09 Profit Within A Couple Of Days!
I generated $5,104.09 over a couple of days selling a product via a sales funnel that took no more than 10 hours to make.
That is $5,104.09 profit, remember.
That is the power of…
1. Having an email list.
And…
2. Creating simple digital information products.
It really isn't that hard.
Let's say that it took you two full days to create a digital product to sell which went on to make over $5,000 in profit, that's good, isn't it?
Wouldn't you like to be able to do that?
Think about it, if just one product took you two days to make and generated $5,104.09 in profit… how many products could you create over the course of a full year?
More importantly, how much money could you create over the course of a year creating digital products in the same way I did?
If you would like to see the sales funnel featuring my Coronation videos, click the link here.
And because you took the time to read through this case study, as a thank you, I am going to give you the opportunity to pick up the new product with a $90 discount meaning that you can 'turn back the clock' … and claim your copy for just $7 … as long as you use this coupon code VIP90.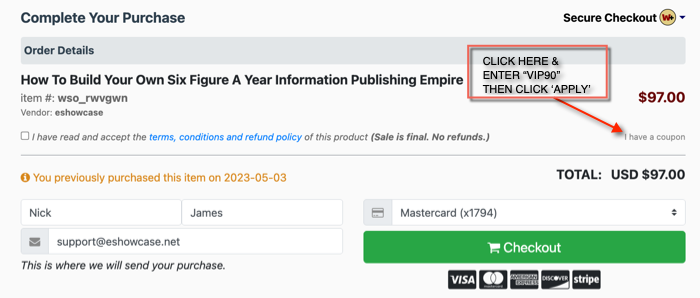 That way you can get everything for just a few dollars just like the original 'dime sale' customers.
Watch the videos… look through the sales funnel… study the product materials… and you could be having your own $5,104.09 weekends very soon.
There's only one catch. Kate and I decided to use some one the cash from that little promotion to book a short European cruise. We leave today and get back early next week. The coupon will remain active while we're away.
Right now, there has never been a better time to go through the entire marketing funnel, study the product and discover the process you could easily copy for yourself to enjoy your own $5k weekend promotions. Imagine what you'd do that the money you'd make. We booked a cruise. What would you do?
If you would like to see the sales funnel featuring my Coronation videos, click the link here.