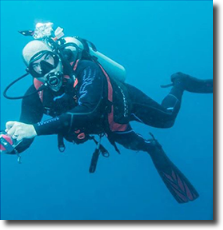 You may or may not know this about me, but I love to go scuba diving.
Over the years I have spent a small fortune learning specific types of diving, about different dive gear and getting the relevant certificates required to go diving.
I absolutely love it.
Scuba diving is a perfect example of how you can take one niche and turn it into a business with a portfolio of profitable products.
A diving school could easily spend a week or two teaching everything about scuba diving, but they generally don't.
The reason for that is when people try to take in a lot of information; they suffer from information overload which leads to forgetting what they were told and failing to learn.
Instead of doing one comprehensive course, a scuba diving school will run several courses such as:
Discover Scuba Diving (try diving)
Open Water Diving (basic qualification to dive worldwide).
Advanced Open water diving
Deep Water Diving.
Wreck Diving.
Night Diving
Scuba refresher course.
All of the above 'could' be taught in a comprehensive course laid out over several months, but it is a lot better for the school and the students to learn the different aspects of diving in easy-to-manage lessons, in a shorter time span and to pass a qualification at the end of the course.
Not only is it easier to focus on one aspect at a time, but it is also easier to successfully complete the course when you are not having to remember 'everything'.
Another thing to consider is that not everyone wants to learn 'everything'.
Some people may only want to learn how to scuba dive in shallow calm waters, others may only want to learn how to dive and explore wrecks on the sea bed some 100ft beneath the surface. Some may want to learn it all.
When you break down a niche into smaller parts, you can actually make more money because you cater for everyone. A person who only wants to dive shallow calm waters, would be put off if the only course you offered taught everything including the more dangerous deep sea or wreck diving.
A lot of people may not take the course because it covered 'everything' which was simply 'too much' for them. They only wanted to learn one aspect of diving.
It is much the same for other niches, take 'writing' for example.
I could create a product that teaches you everything about writing. That one course would probably teach you:
How to write an email newsletter.
How to write a promotional email.
How to write a story-based relationship-building email.
How to write a profitable sales letter.
How to write a sales-producing product description.
How to write a press release that will go viral.
How to write an informative and factual article ideal for sharing on social media.
How to write a promotional money-making article that generates passive income.
How to write a factual 'how to…' book and report.
How to write exciting short stories and adventures.
How to write exciting novels that people won't be able to put down.
How to write cold out-reach emails guaranteed to land new clients and customers.
How to start a freelance writing business.
How to make six-figures-a-year as a writer.
There are a lot of potential products and full-home study courses which would fall within the 'writing' niche.
I could create one course, or I could break it all down into several courses which simply teach different aspects of the business which will appeal to different people.
There are those who simply want to make money sending simple emails with email marketing.
And there are those who would rather create and publish their own information products which they can sell via affiliates and joint venture partners.
Then there are those who would prefer to learn how to become a successful sales letter writer.
Then there are those who would rather take a huge shortcut and simply license other people's products (and sales letters)
You don't have to do or learn it all.
Although I have to say…
All four of what I have just mentioned complement each other greatly and can be mastered by virtually anyone… and I can also show you how to make hundreds of thousands of dollars with all four…
Discover more here:
Each of those are what I call 'a niche within a niche'.
They are all in the same overall niche, they work together like cogs in a clock, but they are also separate parts which a person can specialize in.
A person can make a lot of money writing and sending emails alone. They can write emails for paying clients and they can promote products they find on Clickbank and JVZoo. This one overlaps into affiliate marketing and creating your own products but an email writer can still make money without having to promote products.
A person can make a lot of money creating digital information products alone. They do not need their own website, they don't need to write their own sales letter and they don't need an email list to sell their product to. They can simply create a product and do a joint venture with other marketers.
A person can make a lot of money writing sales letters alone. If they specialize in writing for clients, they don't need to create products of their own or send emails.
A person can make a lot of money selling licensed products alone. They do not have to create anything new. Simply invest in a pre-made product license give the offer a new name, some new graphics and bundle it together with a few unique bonuses sourced elsewhere.
However… they all work best when they work together… but that doesn't mean they have to be taught together.
Just like the scuba diving courses, they could all be taught together, or they could be taught separately.
It is often better to teach them separately so that people are not overwhelmed, and those who don't want to learn specific parts can choose to purchase only the courses they want to learn.
However, If You Prefer…
If you'd rather teach all the parts of an overall niche together, like online digital information publishing, and still not overwhelm people, the other option is to have a continuity membership product where you spread out the different parts as separate sections throughout the year.
Using the online digital information publishing niche as an example, your continuity membership product could look like this:
Affiliate Marketing – Week 1 – 3
Email Marketing – Week 4 – 6
Product Creation – Week 7 – 9
Sales Letter Writing – Week 10 – 12
The content for each week can be a PDF and maybe a video or two. It doesn't mean that you will be doing a live teaching session every day of the week.
Instead of charging $97 to $197 per product, you now charge a monthly membership subscription fee instead.
If you'd like to see how you can benefit from such a course yourself, get direct access to me and our amazing support team… and learn how to build your own six-figure-a-year information product – profiting multiple times from just one niche yourself.
Be sure to check out: Serious About Six Figures.
During the course, you will steadily learn how to
Produce Orders
Build Your List
Generate Traffic
Grow Your Income
Create Content
Work Less Hours
Right now we're seeking 100 new students, who can enjoy a 100% scholarship discount for their first month. If you'd like to join us and see everything that membership has to offer, be sure to click the link below while places are still available.
I'll talk more about setting up an offer like this yourself in a forthcoming article.